Having been back on dry land for a couple of weeks and we have been reminiscing about the latest stage of the trip Western Canaries and probably the wilder Western islands compared to the East, though the landscape is dramatic there too. What looks like small dots on the map amid a huge ocean encompass their own countries or even mini continent of desert, volcano, pine and lush rainforest, often surrounded by flower meadows. This is El Hierro!
Of course a bike is a great way to travel, particularly where there is such diversity of landscape but the small islands have a surprisingly high altitude, rising steeply out of the sky.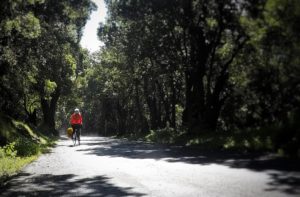 A mixture of persuasion and foreign ignorance helped to find our Two bikes on the bus which strictly only allowed ONE! This did make the whole difference or I (or one of us!) would only be remembering a hot sweaty slog up for three days as oppose to abit of up and some then some of the spins of our lives going down through every topography that you can imagine.
At the end of the day we would be camping somewhere. The fun of camping is that you could end up anywhere, I mean really anywhere and that first night was spent on straw in a goat cave surrounded by little candles whose light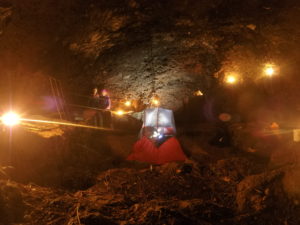 glistened off the contoured wall. I practised how I was going to explain and excuse why we were sheltered in the goat herders cave if he was to appear! A coat rested on a stick suggesting it might be inhabited. However, much more surprisingly given it was in the middle of nowhere is when the next day a cleaner appeared and started bustling around with flowers, taking no notice of us and then opening up a shrine with a huge gold framed picture of Mary in the cave next to ours.
As we left with our bikes, around the corner a huge celebration for the church had just started with most of the people on the island arriving who would no doubt have been visiting the caves too so it was lucky we cleared out in good time.
The rest of the day was spent wizzing down passed mini volcanos of all colours, gnarled trees blown over by the strong winds and then twisted around and then salt flats . An abandoned house turned art gallery of bizarre 'objet trouvez'. Then signs to watch out for rocks slides likely from above the road pitted with where debris had fallen, suddenly our tired legs took as to 30mph without problem.
With the intention to stop for a spot of lunch we came across an area of historic healing waters, lunch inadvertently turned into a longer stay after a little overindulgence. However, during this we were lucky enough to discover one of the islands beautiful 'charcos' this is a swimming hole in the sea which is been tastefully installed often using the natural rock and wood to create platforms and steps into the sea. We were only just in time to enjoy it with waves starting to crash in giving an interesting frissant to the swim!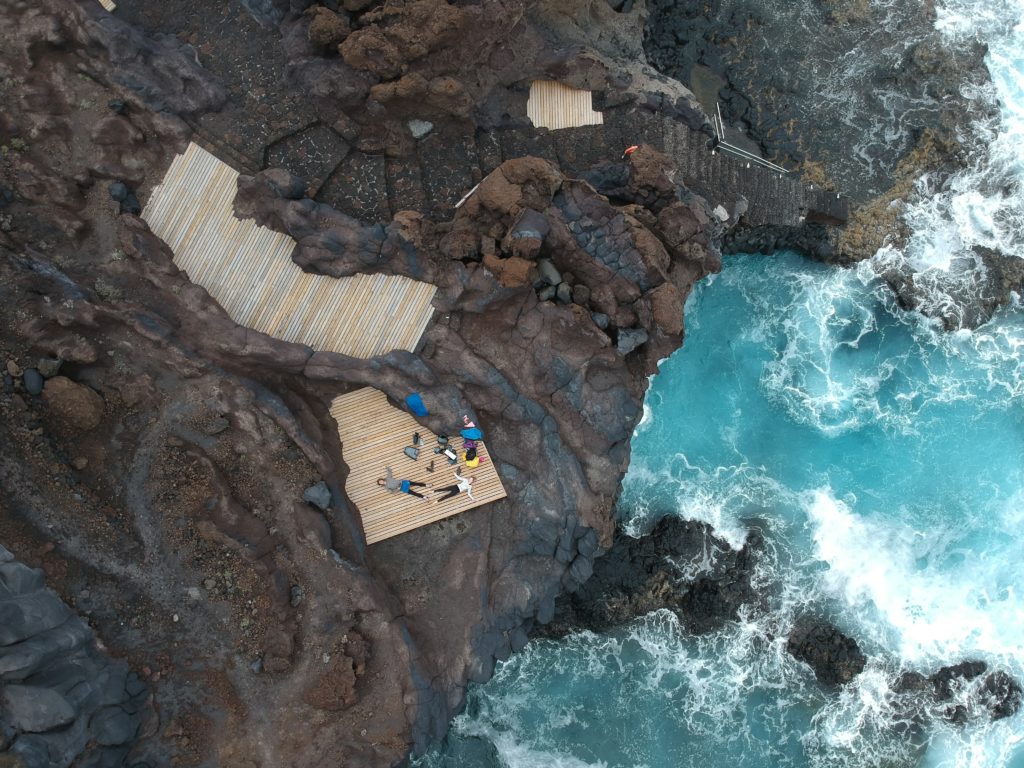 In the next two days a successful circumnavigation of the island was completed by pedal power. Are few more pics!