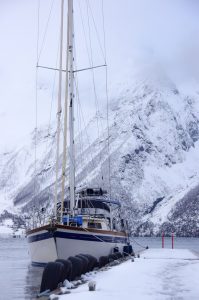 Meet Shadowfax of Falmouth, we've worked hard on getting her 'ship shape' over the years and she is a good compromise between a comfortable home but is solid and functional for expeditions to higher latitudes.
500w of solar provides 95% of our energy but there is a generator as a backup, used very rarely. We make fresh water from the sea via a desalinater, cook on induction, boil water using a traditional electric kettle and plan our movements to ensure we sail rather than use the engine.
Admittedly, we do have a big diesel engine which is mostly used to get into the port or an anchorage safely and for now we can't do away with it altogether. At some point we'll consider an electric inboard engine but for now we have however made the positive step to an electric outboard motor, away from the traditional petrol outboard engines which are notoriously fuel inefficient and polluting.
Heating in cold climates is an issue and one we are yet to solve without burning fossil fuels. We do however, endeavor to reassess the insulation of the boat in an effort to improve efficiencies.
Here is a snapshot of the boat:
MODEL: SeaStream 43 MKIII Cutter
BUILT: Falmouth in 1996
Rig / Sails: Cutter – 3 sails (main, staysail, yankee)
ENGINE: Perkins 80hp diesel
Displacement / Weight: 18 Tonnes approx
Possibly the last of the MKIIIs  to be built and completed in Falmouth, UK under the supervision of the designer, Ian Anderson. She has been refitted for adventurous sailing to higher latitudes. Modifications include conversion of bunk room into a workshop, upgraded Webasto heating, series drogue, window storm boards and Hydrovane self steering gear.
She still contains the original generator, engine and watermaker. An interesting specification when she was built is a sealed watertight bulkhead under the fore-cabin bunk and additionally the whole cabin is a watertight unit when the reinforced cabin door is shut and locked down from the galley area.