Ils du Glenans. You could be mistaken for thinking they were in some tropical paradise…well at least a chilly paradise anyway.
Turquoise waters and huge (clean!) sandy beaches. It is the only place to find a rare narcissus which grows on one of the islands, different to other varieties its head dips demurely and perhaps rather sadly more like a bluebell than the happy daffodil family but none the less delicately.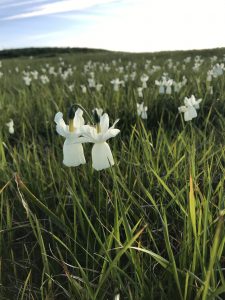 That evening moored up, which had taken some time to find as it is all relatively shallow, we were cooking when through the hull of the boat came strange noices. Running on deck there was an unusual scene… A dolphin with a deep piecing roaring noice was assertively head diving around the mooring buoy Shadowfax was attached to. He then moved onto several of the other boats before returning to the stern where he appeared to want to have some interaction and attention, trying to get as close as possible to us, perched on a little ledge. He seemed friendly but strong, this was a big dolphin quite different to the smaller ones we had seen swimming together before….