Ribadeo, in Northern Spain on the boarder of Asturias & Galicia, doesn't get a particularly good write up as a top cruising destination but it does offer a safe entrance, a lovely anchorage and 3 separate villages to visit as well as nice coastal walks.

Anchored between Ribadeo and Castropol
Most yachts who visit head for the marina which is on the starboard side as you pass under the bridge (20m). You can anchor in the bay outside (Ensenda de Arnao) where the holding is good but it can be a little rolly as the tide puts you beam on to any swell.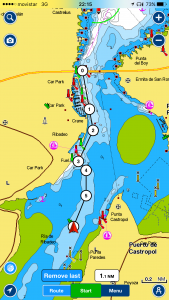 If you enter on a half rising tide however you can anchor in about 3m of water (LAT) opposite Ribadeo and just off the small pretty village of Castropol. The sand banks do shift slightly, but using both Navionics and the Satellite image from Google / Bing Maps, then you can easily slip between the two large sand banks. We draw 2m and anchored at 43°31.549'N / 7°2.222'W with a kedge in a bahamian moor setup just to ensure we didn't swing around at slack tide. In hindsight I don't think it is necessary and you should be fine to swing. You can see by the photos below from our drone there is a fairly wide channel.
The town of Castropol is small, quiet and pretty and Ribadeo is larger with plenty of facilities. There are nice coastal walks from the Marina and some clean bays to have a swim with a water quality of 3/3.
Some more pics of the area: