It was March 2017 and suddenly a rare consistent Easterly had appeared on the forecast. We made it first to Ireland in a cold rough crossing then towards Scotland and through the picturesque Caledonian canal which is more of a river and than a canal and goes through the lochs including Loch Ness and you can cross the whole way through Scotland with Ben Nevis (sadly no snow that year) to one side. Then the bigger crossing over to Norway via the Sheltands on the back end of a big gale which saw us there in 72 hours.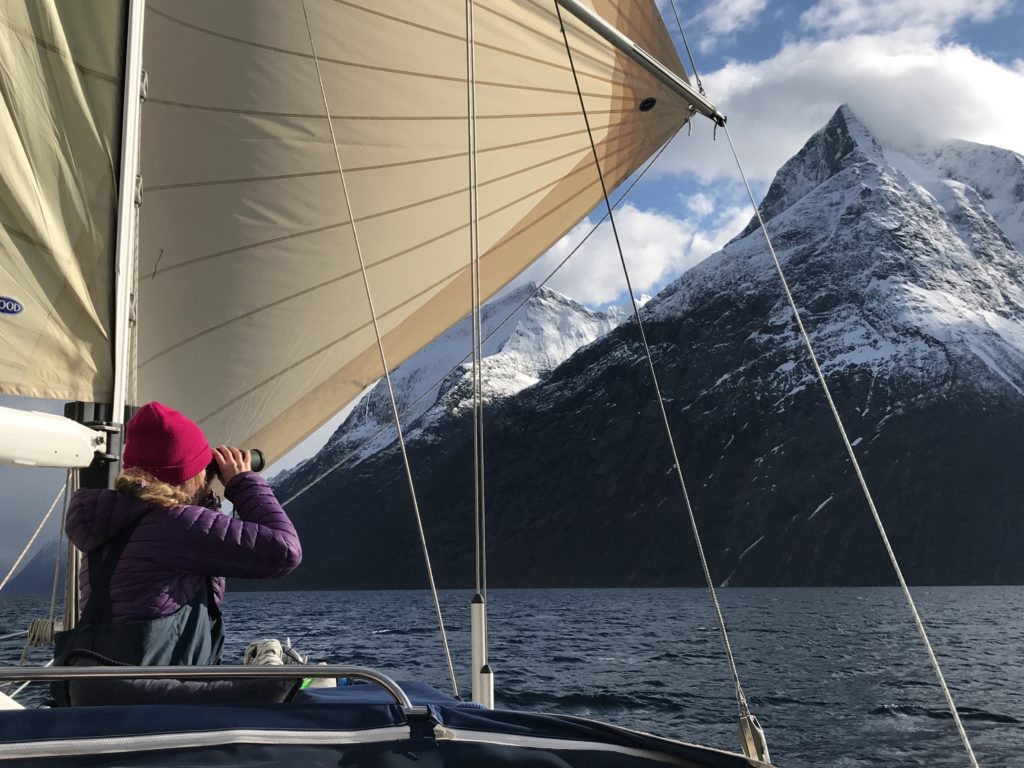 Exciting to see snowy peaks as we arrived after the long crossing. The skiing turned out to be incredible, big sea to summit assents on slopes that stayed more stable than I was used to in the Alps. Due to the angle of the sun it means the conversion rate to less stable snow tends to be slower.
You go through a wide variety of landscape each day going from fishing boats to delicate silver birch trees to big wide open mountain. No we hadn't made it in time to go up to the legendary Lofoten Islands which looks like skiers paradise, perhaps another year, but what we found was just as good, really good. We had no preconceived ideas about whether we would even make it in time for the end of the winter to be able to ski. When you are travelling at the mercy of the wind, time constraints have to go out the window in preference of the optimum conditions for speed and safety and sometimes even the destination need to be changed! We then spent 2 weeks sailing in the fjords of the spectacular Sunnmøre Alps in search of snow which did not take long to find. The day after leaving Alesund we were moored up in one of the many remote harbours in Norway with virtually no other boats around and ski toured our way up a valley of pristine powder snow from virtually sea level. After some fresh snowfall we were even able to start skinning up the mountain straight from the pontoon!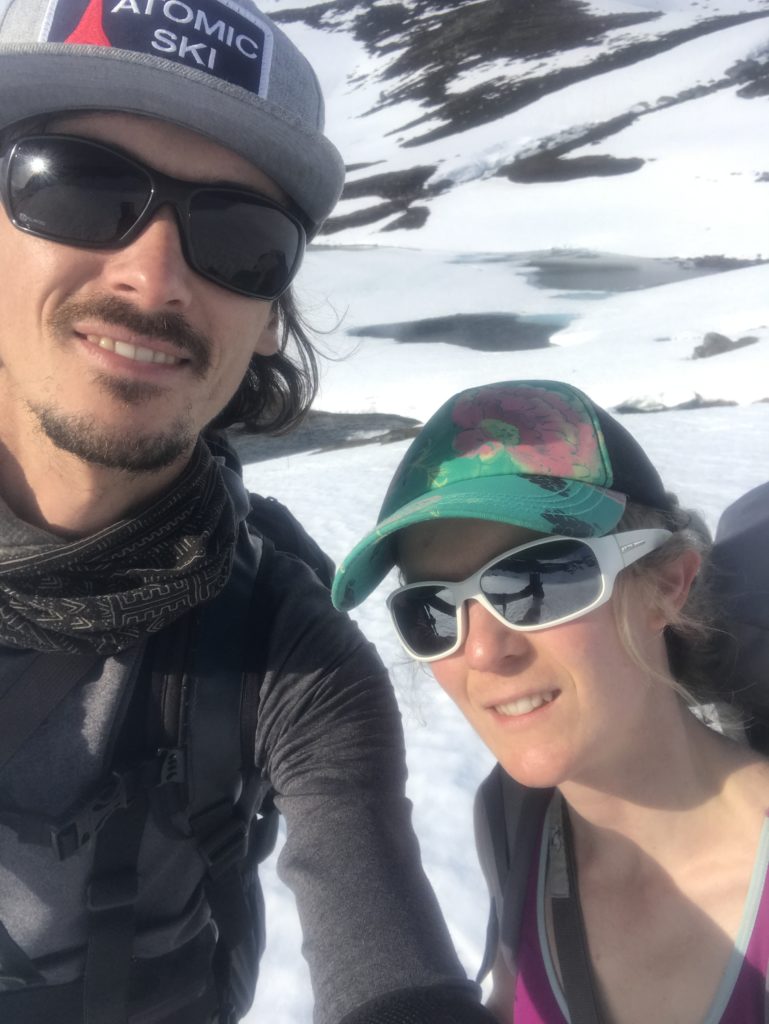 One of the (many!) best trips was into Trollland. By this point it was the end of May and The pass above had opened. Down in the valley the full heat of May baked us in our ski gear and (unusually) no car seemed to be stopping to give us a ride only looking at us strangely with all the ski gear as there was no clearly no snow to be seen anywhere here just flowers and green grass and we did start to wander if we had made a poor decision. Finally a man with his Thai wife and family kindly stopped to picked us up, he was going up the pass and to show his in laws snow for the first time, they found us our ski gear entertaining and when we finally made it up to the pass there were shrieks of laughter and a plethora of photographs taken. Thankfully there was also snow!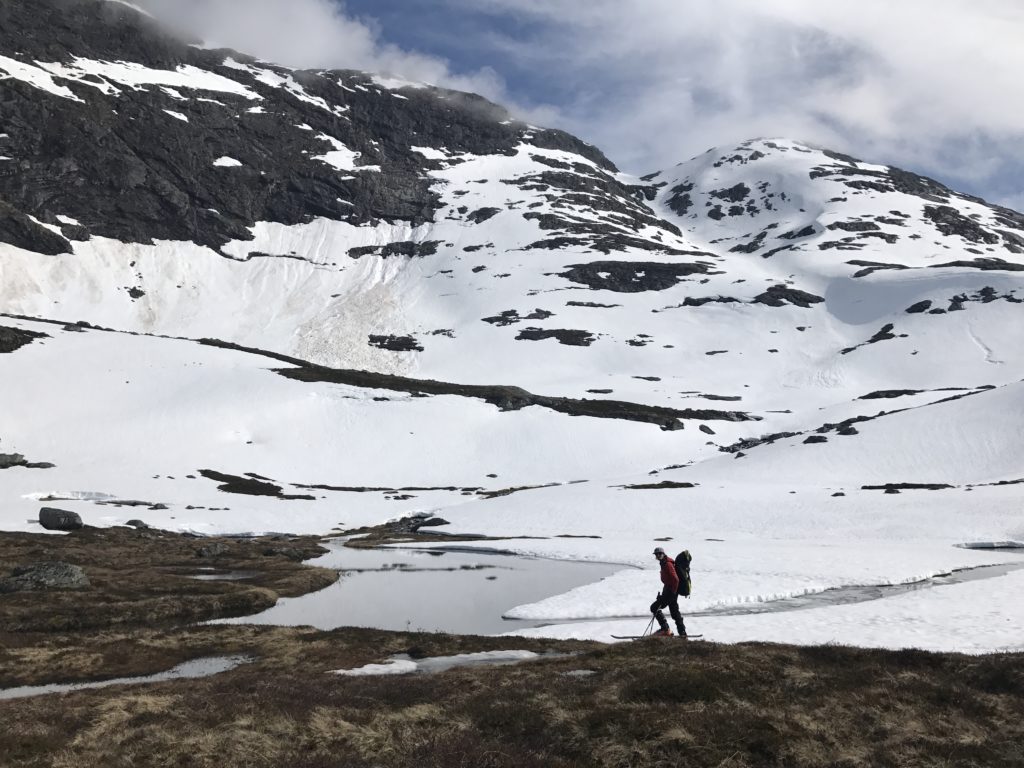 The trail we wanted to take could potentially be a circuit depending on conditions and how steep we wanted to go. The first part was a very gradual incline up along a big wide barren valley dodging grass, a couple of rivers and lakes on the way. We were making for a dramatic viewpoint where cliffs descend and you could see the sea beyond.
We spent the night here, listening to the silence of the mountains and having watched the sun go down it started to come back up again as we cooked up a late supper by the midnight light!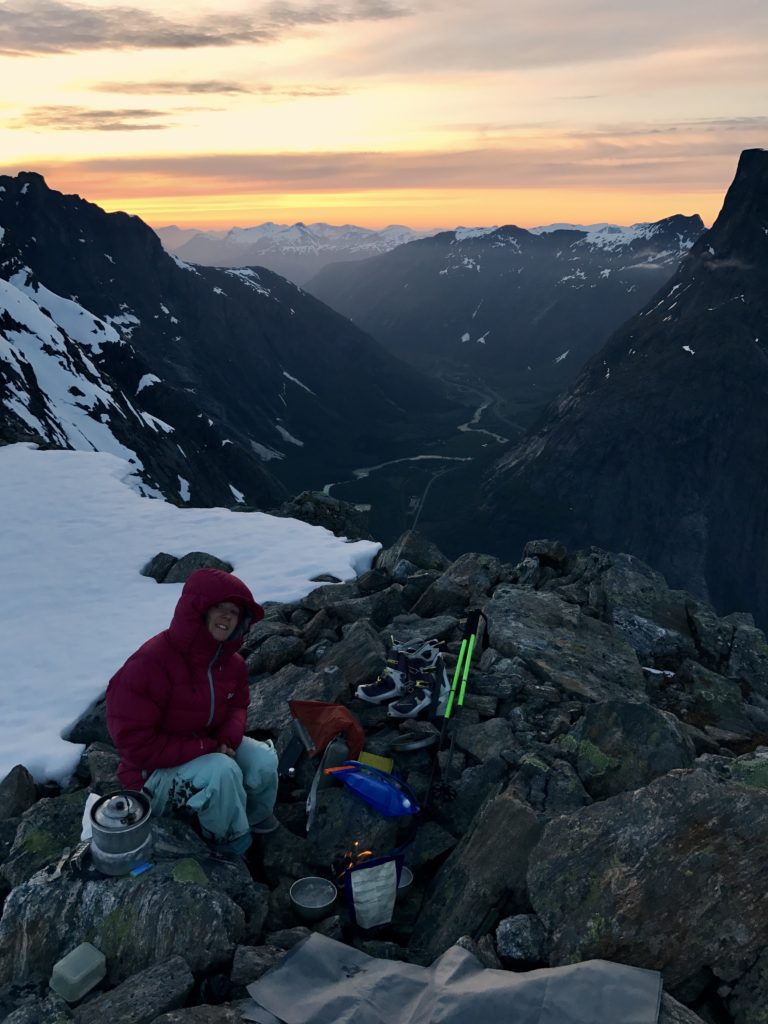 Then laid out our sleeping bags next to a weather station on some concrete, it looked like people hadn't been here for weeks maybe months, maybe they just came in the summer? In a matter of hours our question to that one was answered when a loud engine roared above, suddenly a chopper was swinging overhead balancing a precarious load. We scrambled all of our stuff to the side in a matter of seconds as it descended! The staff, surprisingly friendly given the inconvenience offered us coffee and said they had already seen us on all the cameras around before leaving! Lesson learnt if you come across a large piece of concrete in the mountains with no snow. After deciding against the full circuit with uncertain visibility and without ice axe and crampons we instead toured up to a small peak.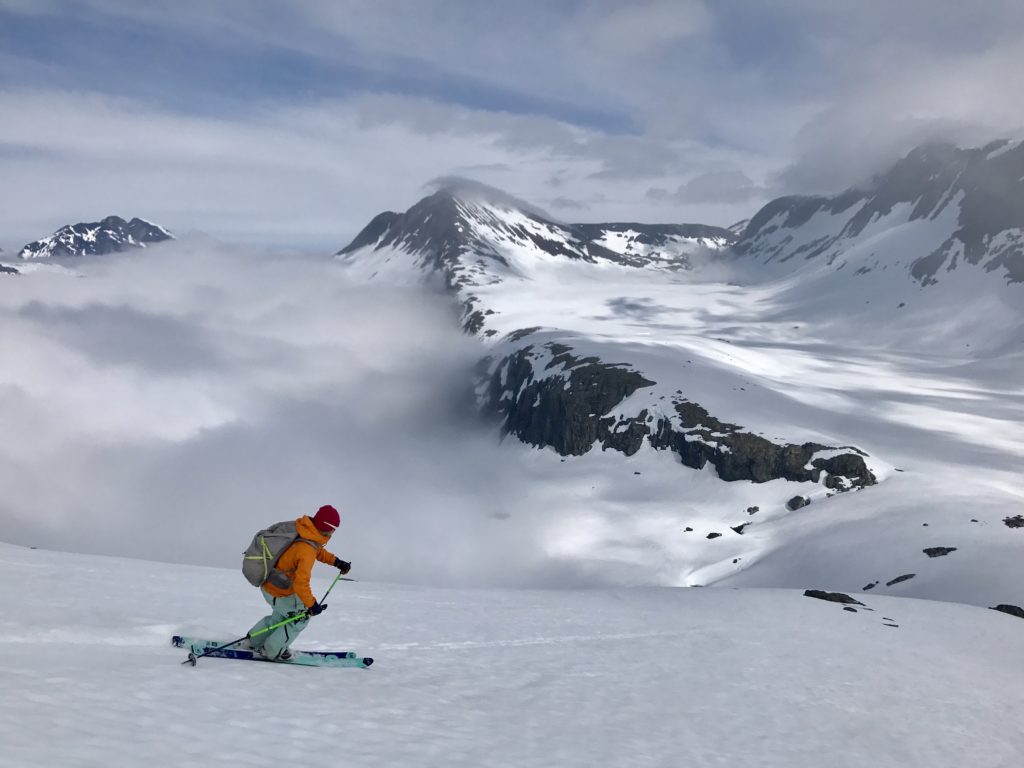 The mist swirled around making us an island in the sky overlooking another couple of peaks, we waited a little and then in one of those wonderful moments as we clipped in, they clouds parted to give us a beautiful long clean descent on soft spring snow with just the odd rock hop and river jump.