Ahoy there from Dublin!
So far, so good. We have made it through our first full week! We lived on board for about 8 weeks prior to sailing away from Bristol, we are really overwhelmed by the great support everyone is giving us, by commenting on our Facebook Page, and following us on Instagram. We haven't really got 'into the groove' of things just yet, mainly because in between sailing, Tim and I still have some work commitments to attend to…hopefully there will be more activity soon!
So, you might ask – what has it been like?
Well to be fair, the first week was potentially a breeze (excuse the pun) compared to what we might be facing in the future. The sun has been out, winds generally good. We had a few mishaps; like anchoring on a lee shore* on the first night because we had no choice – and raising a BENT ANCHOR the next day (oh and some sea sickness thanks to 'Queasy K'* making an appearance).
We met up with some of Tim's old kayaking buddies at St. David's, enjoyed a lovely anchorage over two days in Porthlysgi Bay…and even gathered enough courage for a little dip in the cold, cold, British waters.
The conditions were right for crossing the Irish Sea on Sunday, 29th May, into Arklow – a small town south of Dublin with a safe harbour. It was great for a night to be on a pontoon and re-provision with some basics…and of course, have a pint of GUINNESS! (Tim's first!) Too tired to cook, we decided to eat at Darcy McGees, upon recommendation by local sailors.
With the wind turning North-North East over the next few days, we thought a hop over to Dublin before it got too strong was a good idea. However, it was a bit of a surprise coming out of the sheltered harbour of Arklow; even though we expected choppy waters with wind-against-tide conditions, some of the swell and chop got up to just under a metre with the wind blowing up to 30knots. Thank goodness Queasy K did not make an appearance this time, and better yet – Shadowfax was up for the challenge. We needed to use our motor in these conditions to get us to Dublin in good time. Just when we thought it wouldn't improve, after motoring for about 14NM (nautical miles), the wind fell to about 15kts which was a more pleasant blow that carried us into Dublin Bay.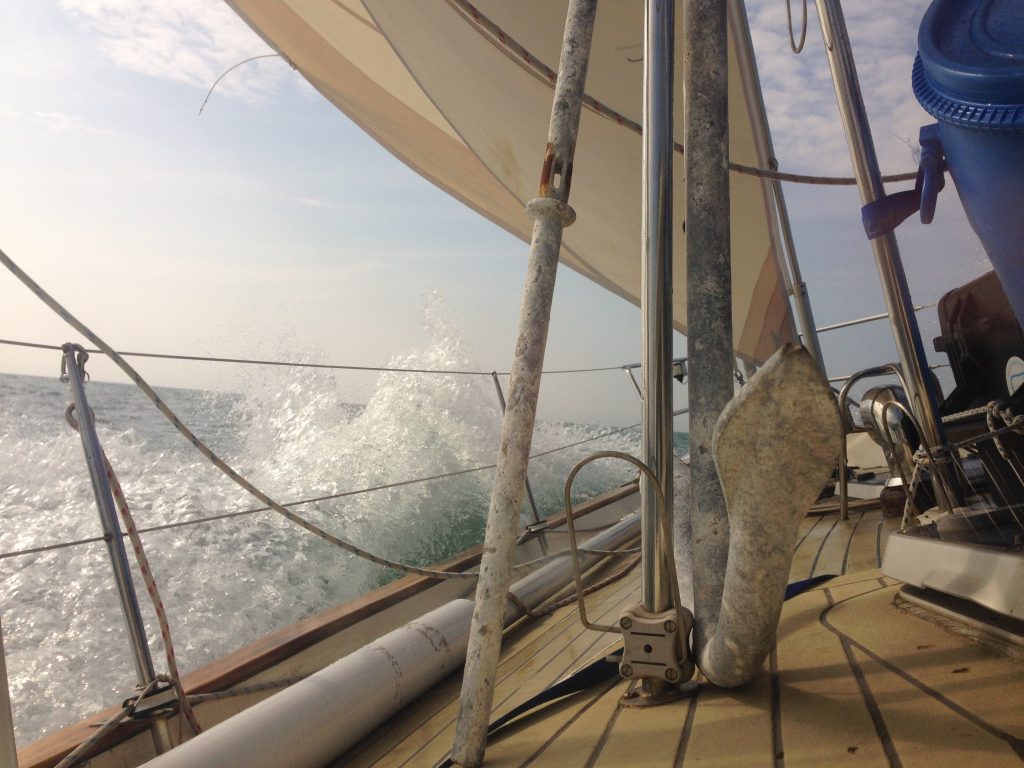 We are grateful to the Royal Irish Yacht Club for their hospitality, where we are moored up for the next few days. The club is well-located in Dún Laoghaire (when the English were around they called it Dunleary, which is how the Irish name is also pronounced), within 5 minutes' walk from a DART train station, from which it is about 15-20 mins by DART into the centre of Dublin.
Living on Shadowfax has been fun, even with its challenges. In the next couple of days, we will be putting Gyro and Elsie  together to explore some of the hills surrounding Dublin.
If you're curious about learning more on living on a sail boat, the technical bits, or everyday life, we will be starting a YouTube channel soon with some quirky videos, and sharing them here. I will also be sharing some recipes of the food we make on board.
Thanks for reading!
*DEFINITIONS:
Lee Shore – a shore exposed to the oncoming wind; this is a more dangerous place to anchor because the boats can get blown to the shore if the anchor gives.
Queasy K – my (Kara's) name for when she gets sea sick.