Bob had suggested that Tobermory was worth checking out, so that's what we did. Tobermory is located at the north end of the Sound of Mull, and quite a popular destination for sailors, especially those with families. The harbour is run by the local community, and everything is injected back into the local economy. The harbour-side high street is composed of a colourful array of buildings that house very quirky local shops (and a Co-op). They even had a well-stocked chandlery, which Tim could not resist visiting.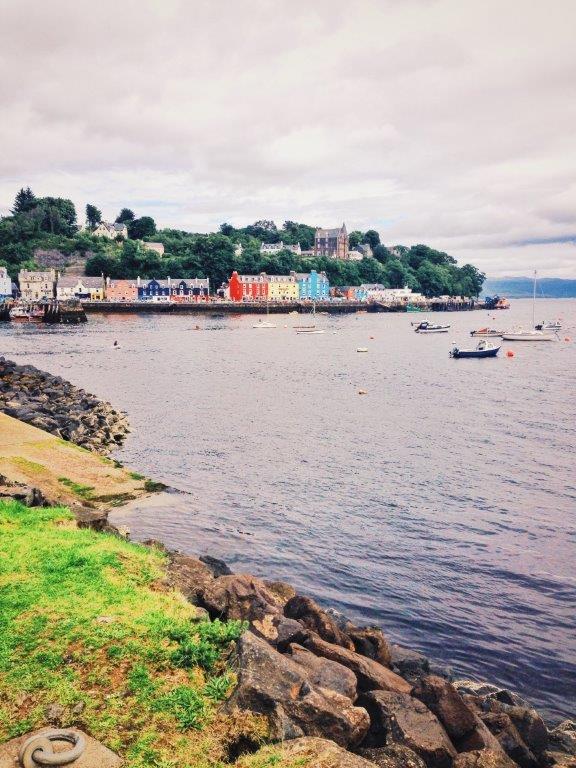 We treated ourselves to a black pudding and cheddar toastie for lunch, and later on for a late dinner, we walked over to the Fish Café, which had a lot of good reviews. We were not disappointed!
We have met a lot of friendly, helpful people in the sailing community. In Tobermory, our neighbours had their boat moored at Ringhaddy, Strangford Lough and knew the people we had met while we were moored there.
The next morning, we headed for Rum, dropped anchor and went for a lovely mini-hike up a well-trodden path next to a mountain stream. The stream opened up to small pools, where I would imagine, on a hot day, would be great for a dip (this was not a particularly hot day though!). Rum was home to some interesting wildlife and a small community, where one could find craft shops and a village hall with tea, coffee, cake, and WIFI – all paid for via an honesty box. We walked past homes with their doors wide open, and fancied a life where there was zero crime and everyone trusted each other. We even saw a wild Red Stag munching on some undergrowth next to the hostel building…it did not seem too alarmed at us staring at him, he just raised his head, stared a bit, and then proceeded eating.
We met another pair of sailors, Tim and Owen. We found out that Tim's boat was moored in Helensbrugh! What a coincidence, meeting people from the places we actually had been to. That said, it is becoming clear that the sailing up here is far more exciting than down south because of the variety of islands and lochs there are to explore – so it's highly likely that sailors up north will explore the northern isles over weekends or short holidays.
The wind blew strong overnight, blowing the clouds away and a bright morning greeted us the next day, when we got up at 6am to make an early start. We were the first boat to leave Rum (there were 9 others anchored off by the end of the day), and sailed the 40 nautical miles across the Sea of the Hebrides with the spinnaker and main sails. I was feeling a bit queasy and Tim managed on his own until I rose from Queasy Kingdom!