We look back a few months ago, when every morning was almost identical to the previous morning. Days would pass, and we could count weeks in Fridays and Sundays, looking forward to the next gathering of friends or what the weekend would bring. Each day was planned around work commitments, friends, and family – the mode of travel to each one of those plans was almost an afterthought.
Now, every day is planned out – at least as best we can – with the wind and the weather, with our water or supplies available, and our destination. It's still planning, but in a different sense. Time passes more steadily, and our body clocks are dictated more by sun rises and sun sets…or how hard the wind was blowing.
The other day, we tried to recall each anchorage or harbour since we left, we keep a ship's log to remind us. We stopped at Oban to pick up some supplies; the town was teeming with tourists (us included!) and other yachtees buying provisions. Among some of the usual commercial presences, it had some interesting shops, a homemade ice cream parlour, an excellent fish restaurant, and a harbour-side fish market. It was our final major town stop before heading towards the Isles of Mull and Rum, which would be our final stops before making the jump across the Sea of the Hebrides, to the more remote areas of Western Scotland.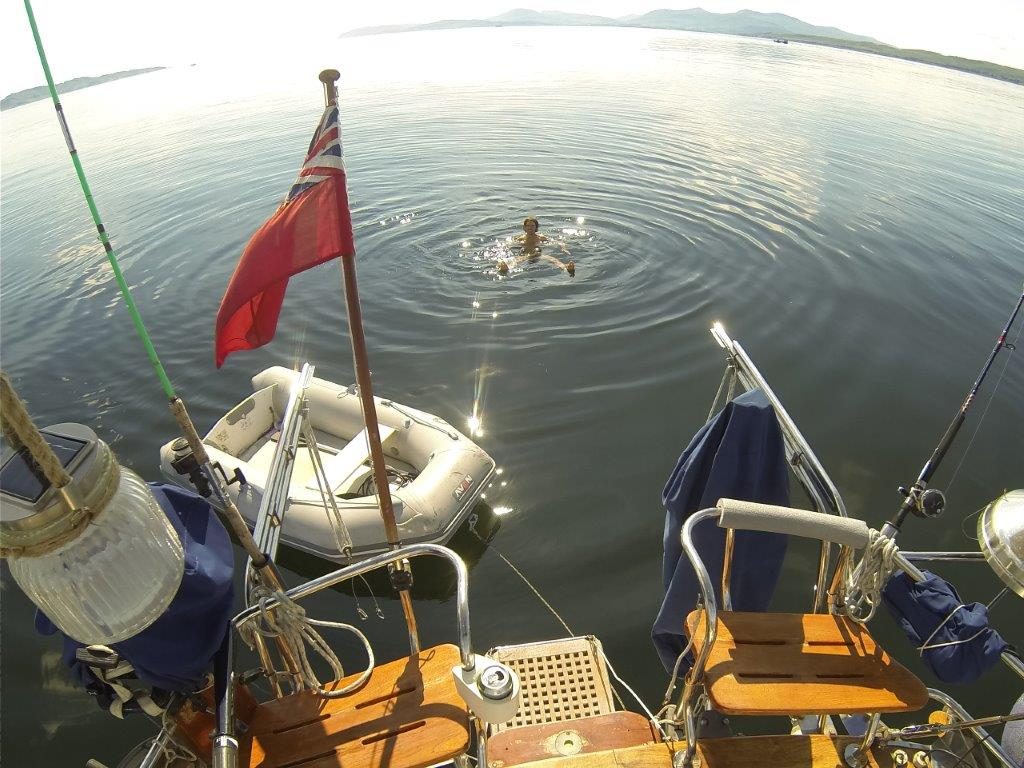 We had the pleasure of having Bob Shepton on board to join us for a boat galley-concoction of lasagne and stout. Those of you who don't know of him, he is a bit of a legend in sailing and climbing combinations (among other things!). At 80 years of age, he is still actively sailing out on expeditions to the north, where fewer sailors have been. He is known for his deep knowledge of the Northwest Passage, and has jokingly called the 'usual' Atlantic Ocean crossing (i.e. Canaries to Panama) "The Milk Run". During his circumnavigation of the world, he sailed across the Atlantic via the north, and wanting to avoid the Panama Canal fees, he sailed the Northwest Passage again on the way back! He had a few more stories to tell, and although we got a good measure of what an inspiring person he is, and a couple of hours with him was not enough to satisfy our curiosity of this awesome character. Sadly, he had to leave – but not without heavily suggesting that we should sail north and that we would need an Ice Pilot to come along (i.e. himself!).
Well, Bob, the Pilot's cabin is ready!